Complete Security, Convenience and Control 

It's time to expect more from your security system. You can have better security, increased awareness, mobile control, and new levels of interaction through an advanced security system.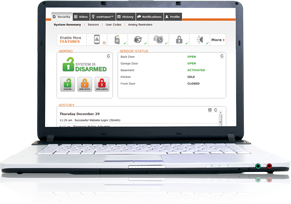 Better Security 

Protection when you need it most 
Get better protection with an advanced wireless communication system. Don't be exposed to common vulnerabilities of other systems like phone/broadband line cuts, or an unpredictable Internet connection that can drop in a power outage. Get persistent protection with always-on communication that works. 

"Crash and Smash" detection technology 
Exclusive "Crash and Smash" technology, developed by Alarm.com, ensures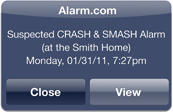 that even if an intruder is able to locate and destroy a security control panel in a "crash and smash" attack, a signal will still be sent to emergency responders, and an alert will be sent to you. 

Two-way emergency voice 
In the event of an emergency, you can count on two-way emergency voice service to immediately connect you to help without picking up the phone. 


Interactive Solutions 

Instant and complete awareness 
You already use your computer or cell phone to check the weather, view sports stats or pay the bills. Now it's just as easy to stay connected to your home or business while on the go. 

Always-on protection 
Make your security system work for you all the time, not just when it's armed. You can be alerted in the event of an alarm, know when the system is disarmed, check in to see which door was opened, or find out exactly what time your kids came home. Unlike traditional systems that do nothing while the system is disarmed, our solutions keep you in touch with what's going on at your property and alert you when something happens. 

Mobile apps—a remote control in your pocket 
Stay connected with free mobile apps, powered by Alarm.com. Intuitive technology and dynamic interfaces provide a convenient way to control your security system and check in while you're away. Access your interactive security account through your: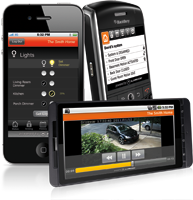 With the app, check system status, review a history of events, arm or disarm your system and receive real-time alerts. Get convenience, awareness, and control at your fingertips. 




Video Monitoring 

A window to your world 
Add video monitoring to your system and get an instant view into your home or business. Alarm.com IP cameras stream live video, sense movement, save recorded clips, and trigger email and text message alerts to provide you with greater peace of mind. 

At home, use cameras inside to check up on kids, pets and visitors, or point them outside to see activity at the front door, in the driveway or in the backyard
At your business, set up motion-triggered recordings to ensure employees are doing what they're supposed to and keep an eye on sensitive drawers and cabinets
*With video service, you can also view live video & recorded clips through the mobile app. 


Automation & Energy Management 

Feature-rich, intelligent, energy saving 
Make your home or business smarter with intelligent automation of your lights, locks, appliances and thermostat settings, or utilize energy-saving smart schedules. This service uses triggers like the time of day, day of week and status of the security system to help make your property run more efficiently. With it, you can: 

Set your home to warm up or cool down when you leave for the day
Automatically lock the door whenever you arm your security system
Turn on certain lights when the system is disarmed or a door is opened
*With automation/energy service, you can also turn the lights on/off, lock or unlock the doors and change the temperature through the mobile app.